If you are seeing the error – iPhone is disabled Connect to iTunes, here is a solution for it. Here, we will explain you the reason of disabled iPhone Connect iTunes error. Recently, a lot of users are complaining about this message code. This is not new for us and in fact not new for anybody who is using iPhone since long. Basically, it is not an error message for a trouble, it is safety add on which actually is very helpful. We will learn the benefits in the further article.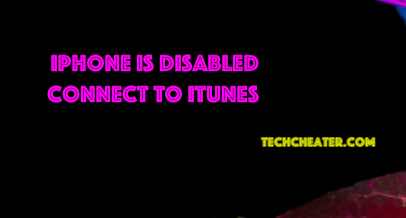 Suggested Read: How to charge iPhone faster.
iPhone is disabled Connect to iTunes
When you enter repeatedly incorrect passcode, iPhone disables the access and will show you "iPhone is disabled connect to iTunes" message. This is in order to recover your device.
Reason:
When you keep your phone in public and some people just try putting random passcodes but fail to guess the correct one, they will disable your iPhone. Generally, people opt to erase data after failure of correct passcode entry for n number of tries. I suggest you not to do. iPhone security is too high and it disables your phone with repeated wrong security code entries.
Solution:
In Order to fix the problem and re-enable the disabled iPhone follow the steps below:

First of all, Connect your iPhone to your computer
Now, Just Open iTunes, press and hold the Sleep / Wake Button and Home Button / Volume Button (for iPhone X / xr / xs and xs max) together for 8 seconds.
Release the Sleep / Wake Button after 8 seconds but continue to hold the Home Button / volume down button until you see "iTunes has detected an iPhone in recovery mode".
Now use the iTunes interface to restore your iPhone.
Restore the latest backup and start using your device again.
Enjoy.
The problem has simple solution. But if you do not have a backup available for your device, you may erase the device and setup it again as a new iPhone. But in order to do that, you should be able to connect your mobile with the iTunes.
If still there is some problem, just write down the details below in the comment section, We will get back to you soon.
iPhone is disabled Connect to iTunes
Summary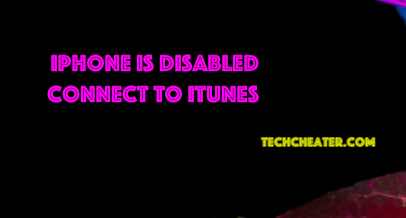 Article Name
iPhone is disabled Connect to iTunes
Description
If you are seeing the error - iPhone is disabled Connect to iTunes, here is a solution for it. Here, we will explain you the reason of disabled iPhone
Author
Publisher Name
Publisher Logo