Verizon is one of the best mobile operator in USA and it gives a special privilege to the senior citizens. With the special offer plans for seniors, the company tries to make the old men & Women special about them. Company works intelligently and makes the deals with an intention to target a particular age group. Almost, all of the people above 60 years of age prefer a similar pattern of mobile phone usage.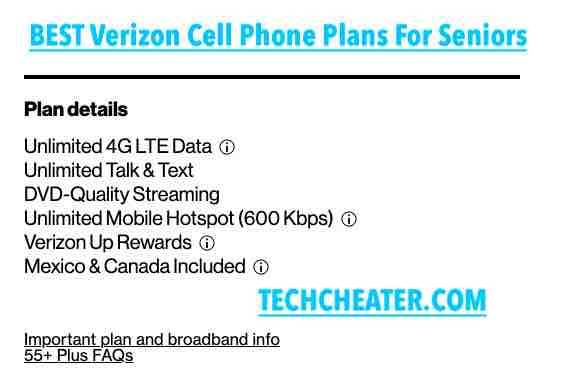 Most of you must be thinking whether Verizon offers any special plan for seniors ? Yes, the unlimited 55+ by Verizon targets the consumers in the age group of above 55. Let us read the details about it.
Verizon Cell Phone Plans For Seniors ( Latest 2019 )
Most of the Seniors stay majorly at home and use the home Wi-Fi for most of the time. Hence, they do not wish to prefer a plan with more data. They want to opt for a pack with less or no internet but will prefer the unlimited call options. So, the company now manipulates this data. Cut shorts the internet quota and reduces the plan prices for Senior citizens. Though, they will offer few MBs or GBs of internet just to keep their users on a safer side so that they can use the internet in case of emergency.
What is Special in Verizon Plans for Old Citizens ?
This was the strategy which company preferred long time back. But now, with so many operators. The plans are designed with unlimited features. Mobile network operators know that the consumption will be limited because of the above mentioned factors. But they offer everything unlimited to the users. The lesser consumption puts lesser load on the network and their cost of operation remains same.
Best Verizon Cell Phone Plan For Seniors
Verizon's unlimited 55+ is the special privilege plan for the senior citizens and is the best of all available options by the Verizon. It gives you the facility to use unlimited 4G LTE data with unlimited text and calls. Other interesting features of unlimited 55+ plans are :
Unlimited Mobile Hotspot (600 Kbps)
DVD-Quality Streaming
Verizon Up Rewards 
Includes Mexico & Canada
How much does it cost for the special senior citizen plan by Verizon ?
The special plan is priced at 60$ per line for single line and 40$ per line for 2 line connections. Though the stores offer deals and offers on special occasions. Also, you can search the website for best Verizon deals  here on this website and get the special discounts for your customised search.
Let me know in case you need more details. Also check the iPhone XS and XS max offer price with Verizon.
Summary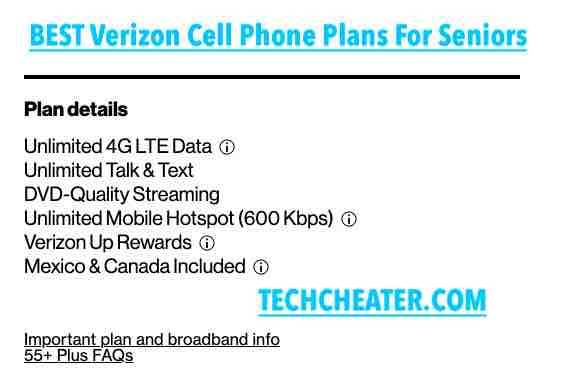 Service Type
Verizon Cell Phone Plans For Seniors
Provider Name
Verizon Cell Phone Plans For Seniors
,
Area
Description
Verizon is one of the best mobile operator in USA and it gives a special privilege to the senior citizens. With the special offer plans for seniors