Your iPhone has been compromised is a popular pop up message which many users are getting now a days. This is a Scam Alert which pops up on the iPhone Screen while you are using the internet. The most important thing to note before you understand it is that you should never click it. If you click it, your iPhone will get different cookies on your device which will create a lot of malicious content and expose your privacy to the unwanted spies.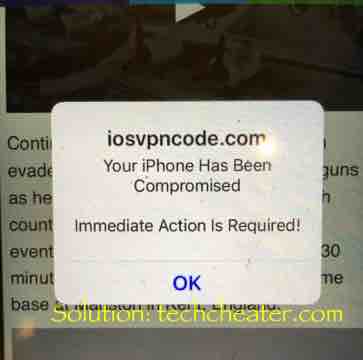 Suggested Read: How to Charge iPhone Faster and in a more effective way.
Now to understand the popup, just consider that it is not a virus. The text – "Your iPhone has been compromised", is a popup message that is shown to the user. It is scam alert which makes most of the users worried and prompts them to click the pop up. It is a error message that a spam website shows in order to get your click intentionally. As soon as you click the link or the pop up message, your phone internet accesses the malicious server content. Now it depends on the server owner that what kind of cookies it is using and how adversely it is affecting your user experience. It might be possible for the hacker to get access to each and every file in your iPhone. Do not worry, this is just the details. We have a solution for it.
How to fix Your iPhone has been compromised message
As soon as you see the pop up, launch the app switcher and kill all the running apps.
Now Go to Settings -> Safari ->Clear History and Website Data.
Confirm and clear all the data.
That's it.  You can use your phone features again.
What if you are using Google Chrome and you see the same error message:
Launch the app switcher as soon as you see the pop up message.
Now, Tap the three horizontal dots in the lower right-hand corner of the screen.
Go to  Settings ->Privacy ->Clear Browsing Data.
Select all options and Clear Browsing Data.
Confirm your action.
Enjoy!
Summary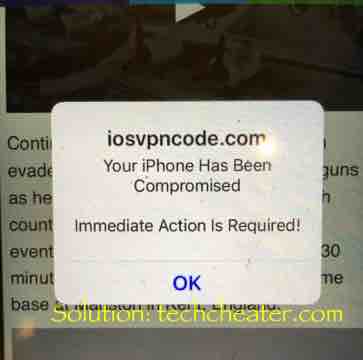 Article Name
Your iPhone has been compromised - Details & Solution to Fix
Description
Your iPhone has been compromised is a popular pop up message which many users are getting now a days. This is a Scam Alert which pops up on the iPhone
Author
Publisher Name
Publisher Logo