Cydia tweak to prevent iOS update. Apple updates its iOS versions frequently. This hack of cydia tweak to prevent iOS update automatically will make you so much happy that you will feel incomplete when you dont have this one.
Actually speaking, there are many benefits when a iOs update is there. But for jailbreak users, it might be a conflicting situation when your phone is updated on iPhone with the Jailbreak. Sometimes, your phone can not get out of recovery mode and you might end up in time wastage and sometimes you might loose your data.
Nost of my readers keep on asking me for a way to inhibit the auto iOS update. The best way is that you should disable it from the iPhone settings. But, if in particular you are asking for a Cydia Tweak, you can check the below steps.
Cydia Tweak to Prevent iOS update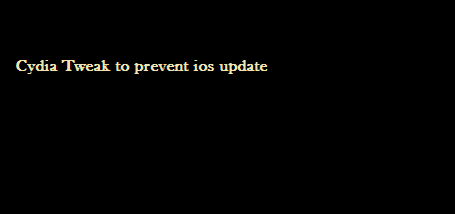 Mikoto is the Cydia tweak to prevent iOS update which is available at the Cydia Repo –
Here is the URL link for the Cydia Tweak to prevent iOS update
https://cydia.angelxwind.net/
Steps to install Mikoto to prevent iOS update
Launch Cydia on your iPhone.
Now add the Repo -Karen .
Search for the tweak – .Mikoto
Click install and wait it completes.
Restart the phone now.
Another list of Trending Cydia Tweaks which you will definitely like
Cydia Tweak to Hack Whatsapp features.
Hack the Snapchat features with this popular Cydia Tweak.
Cydia Tweak to hide read receipts in Facebook messenger.
Important
While using Mikoto, if you face any issues in iOS 10. Then you can go for this alternate method. You can go to the link – http://www.apps4iphone.net/  and then download the app. After this installation, you will never receive iOS update notifications. Interesting thing is that it works without Jailbreak too and you can install it in minutes.