Google Ad Balance in google Adsense is a brand new way of increasing the user experience and increase the Publisher earnings. With Google Adsense Ad balance you can actually control the limit of showing the low performing ads. The Google Ad Balance feature in Google Adsense comes with a Slider interface. This allows you to control the limit of Low quality ads on your blog or website. The interesting part is with the change in the limits of poor performing ads, it also shows the real time possible impact on your earnings. Accordingly you can optimize the Ads Display.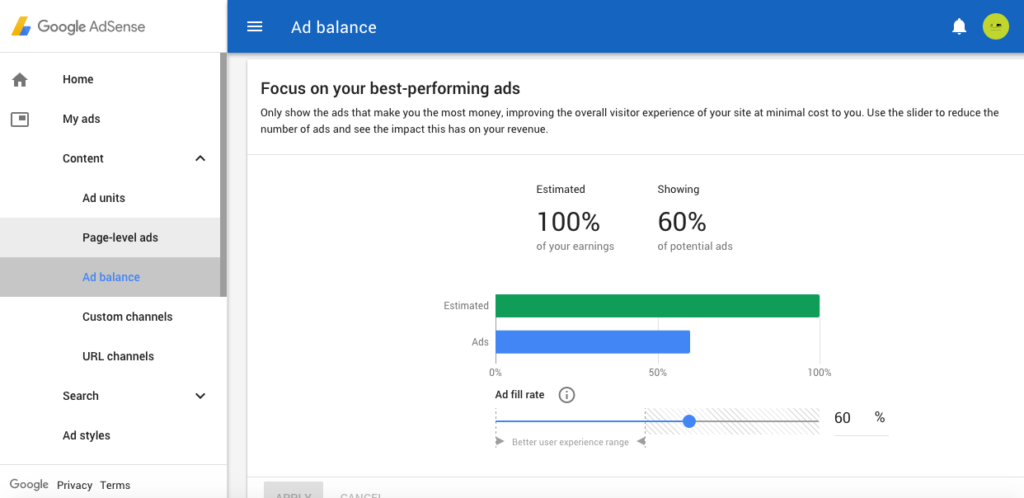 Why This Google Ad Balance Feature in Google Adsense
Google Ad Balance in Google Adsense is a new way to optimize the google Ad performance. The reason is obviously clear that the Google wants to stay top in the market. There were days when Google Adsense was the only Pay Per Click Ad Network. Now with Taboola and Other agencies, Google Adsense is loosing the popularity. The Reason Google Adsense introduced Google Ad Balance is –
To increase CPC as with other Competitors.
To increase the Ad Quality so that it can meet the same standards as of Content Suggestion Ad Networks.
Increase in User Engagement on Blog ads means increase in Google Revenue too.
The Way to attract more and more Bloggers to stay committed to Google Adsense.
Benefits of Google Ad Balance to Users
Increase in User Engagement. Before this Most of the time Google Ads showed irrelevant ads. Many a times they were repeated. Mostly they are just useless file installations. Now only the ads with potential User engagement will display if the publisher configures the Settings of Google AdBalance accordingly. If you wish to read Google Ad Balance Benefits, You can refer to my previous article. It will help you know How the Google Ad Balance will benefit to increase your Google Adsense earnings.