Hide Apps iPhone | Cydia Tweak. This Cydia Jailbreak trick/tweak will allow you to hide the installed apps/ app icon from iPhone screen/Springboard. Sometimes , it happens that you install some iPhone applications which you do not want others to know about. Then comes a situation, where you have to share your phone to others and you are out of your privacy. This Jailbreak tweak will hide any installed app from your iPhone screen. It is simple to hide apps iPhone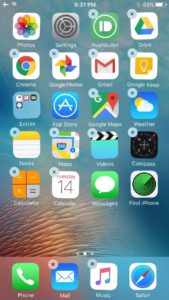 The Trick works on Jailbroken iPhone. You can learn to Jailbreak using this easy guide. Click here and you can easily Jailbreak your iPhone.
There are many dating apps and other intimate content apps which users install. They are always afraid to show or let others know about it. This tweak to hide applications iPhone will be really helpful for them.
Hide Apps iPhone with the Cydia Tweak.
Hide Apps iPhone with this Cydia Tweak. The Tweak name is Poof. This will make you hide / unhide any app icon from your iPhone screen with a simple switch interface. You can just toggle and hide Tinder or any other app icon you wish.
Steps to hide apps iPhone with Cydia tweak
Launch Cydia on your Jailbroken iPhone.
Search for the Cydia Tweak "Poof".
Click on install.
Wait till you complete the installation.
Respring springboard.
Now Go to Poof app.
You can toggle the apps you wish to hide.
You can also change the name of app icons . I have renamed my Whatsapp as ChaosChap. This is possible with the Cydia tweak. Click this link to read.
When you launch the app, the app lists out all the applications which are there in your iPhone. The tweak lets you hide apps iPhone with a single switch. Click to hide the app. Whenever you wish to open the app , or nobody is around , you can simply go to poof and unhide the app icon. So , enjoy your privacy and hide apps iPhone.