Put iPhone 6 on Vibrate. The vibrate mode in iPhone 6 is an official Apple Feature that will alert you with a vibration for the notifications. Meaning, your phone will be vibrate if someone calls, messages or if you get any app notification. This feature is very useful, if you are in a meeting or attending any university lecture. If somebody calls you that time and you get a loud ringtone playing, it is awkward. Vibrate mode is very useful in such cases. Though there is possibility of silent mode, but with that, user sometimes, misses the notification as it does not give any visual / audible alert.
Also Read: Check how can you connect iPhone 7 to any LED.
This feature is almost available in every mobile device and is being used since beginning.
How to Put iPhone 6 on vibrate
Open the iPhone settings and scroll to sounds.
Select the switch for "Vibrate on Ring" + "Vibrate on silent" in the on direction.
Now toggle the silent hardware switch given on the left top side on iPhone 6.
Your iPhone 6 will vibrate if someone calls you now.
Image of Silent Hardware switch on iPhone 6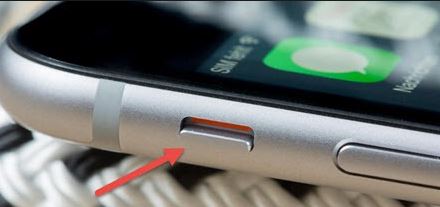 Important
When you put your phone on silent, you can get the only vibration alerts. But if you want the sound to play along with the vibrations, you can follow the above steps except do not put the phone on silent mode. This will alert you with a vibration and a ringing alert together.
Also, there is possibility that you change the way your phone vibrates. You can selectively go to the sounds and go inside the individual ringtone settings and go to vibrations in the top. With this you can control if you want longer vibrations or shorter duration ones for your iPhone 6.
I am sure, you will love this. If you face any issues in between, you can refer the video tutorial for the way to put iPhone 6 on Vibrate.
Youtube video guide : How to put iPhone 6 on vibrate.

Summary
Article Name
How to put iPhone 6 on Vibrate
Description
Put iPhone 6 on Vibrate. The vibrate mode in iPhone 6 is an official Apple Feature that will alert you with a vibration for the notifications. Meaning, your
Author
Publisher Name
Publisher Logo